History 'has lessons' on preserving Scottish landscapes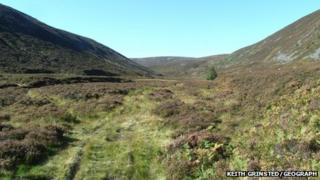 Understanding how rural landscapes changed over the centuries can help design the best ways of preserving them, new research has suggested.
Scottish Natural Heritage (SNH) commissioned a study of how Glentanar and Aviemore in the Cairngorms National Park have altered since the 1700s.
The research suggests economic and social factors have, at times, had a greater influence than climate.
A Romantic Victorian idea of the Highlands was among factors identified.
Over-exploitation also played an important part in changing the landscape of the Cairngorms, according to the study's newly-published report.
The report recounts how two world wars disrupted supplies of timber to Britain from Sweden and Russia leading to greater pressures on Scotland's already dwindling woodlands.
German and Italian prisoners of war and expert loggers from Canada worked on the forestry operations, while local boys were paid to gather pine cones so the seeds could be harvested for growing more trees.
The report quotes conservationist Sir Frank Fraser Darling writing in 1949 that the deforestation of Glenfeshie and Rothiemurchus, both near Aviemore, resembled a battlefield.
Tourism and deer stalking have also helped to shape the look of Glentanar in Royal Deeside and Aviemore in Badenoch and Strathspey, according to the study.
The Victorians promoted an of idea of the Highlands being a romantic wild space where tartan-clad bagpipers played, and it was the right of gentry to hunt large antlered red deer stags.
The report said: "These efforts were part of an attempt to revise historical prejudices lingering from the Jacobite Rebellion a century before but they produced a stereotypical 'shortbread tin' version of Scotland that lingers to this day."
Queen Victoria approved of this romantic vision and her purchase of Balmoral Castle in 1852 as a summer residence encouraged landowners to do the same.
In a summary of the study's main findings, the report said: "Climatic factors were not always the principle catalyst for changing land-use. Economic and social factors often defined the parameters of changed land-use."
It added: "Careful research into the unique historical characteristics of how and why rural Scottish landscapes developed will help modern management schemes identify the best methods to preserve them."