Capgemini to create up to 500 new jobs in Inverness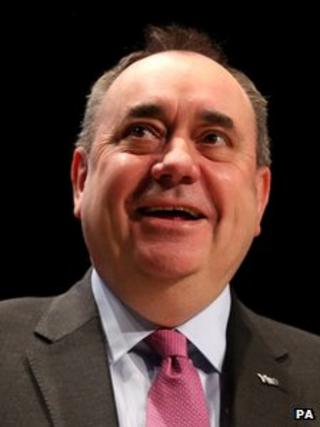 French finance technology firm Capgemini has said it will create up to 500 new jobs in Inverness over the next three years.
The company employs about 500 people in the Highlands at the moment and more than 120,000 worldwide.
First Minister Alex Salmond, who attended the jobs announcement in Inverness, described the move as "immense".
Capgemini is also moving its Highland operations to new offices in Inverness.
The announcement comes days after the collapse of a Highlands-based freezer manufacturer.
Icetech Freezers in Castletown, near Thurso, has been placed in provisional liquidation. Most of the company's 70 workers were made redundant on Monday.
New owners have been sought for the business which describes itself as the UK's last freezer maker.
The creation of new jobs at Capgemini is being supported by £4.25m of funding from Scottish Development International, a joint venture between Scottish Enterprise, Highlands and Islands Enterprise (HIE) and the Scottish government.
HIE is also providing a £1m training grant.
Capgemini said it expected to create up to 200 new full-time posts by the end of this year and plans for 300 more over three years. The firm provides service desk and help desk type services.
Mr Salmond said: "Capgemini's announcement that they are creating 500 new jobs in Inverness and thus doubling their workforce here in the Highlands is fantastic news.
"Even in the increasingly vibrant city of Inverness, the economic impact of this employment boost cannot be over-estimated."
Paul Soutter, chief executive officer of Capgemini Infrastructure Services UK, said the company was committed to creating "high quality" and "sustainable" jobs.
Boost to economy
He added: "We have long found Scotland to be a purposeful, dynamic and productive environment for business, so that by significantly expanding our activities here, we are building upon a strong record of proven success."
Leader of Highland Council, Drew Hendry, said the jobs would boost the local economy.
He said: "Highland Council's programme places economic recovery as its number one priority and this is a further sign that Inverness and the Highlands can play a key role in attracting inward investment to Scotland.
"We look forward to working with Capgemini to assist their recruitment process and provide opportunities for our young people in particular."
Damien Yeates, chief executive of Skills Development Scotland, and Fraser Grieve, Highlands and Islands manager for the Scottish Council for Development and Industry, have welcomed the announcement.