Hebridean hauliers 'squeezed' after removal of RET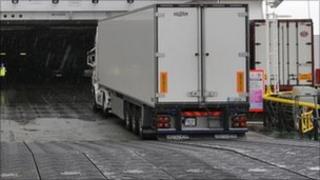 Removing lower cost ferry fares for large freight has had a "significant negative impact" on haulage businesses, a review has suggested.
The discount on crossings between the Hebrides and the mainland was withdrawn from all commercial vehicles longer than six metres last year.
The Scottish government commissioned a review of the effect that taking this action would have on hauliers.
A draft version of the review's final report said it had been "significant".
The Western Isles' local authority, Comhairle nan Eilean Siar, and the Outer Hebrides Commerce Group (OHCG) said the report confirmed haulage businesses' concerns about the removal of road equivalent tariff (RET).
RET was introduced as a pilot on ferry services in the Western Isles, Coll and Tiree in 2008.
From March last year it was withdrawn from all commercial vehicles longer than six metres.
The government put in place measures to prevent fares increasing by more than 50% in any one year.
Following meetings with island councillors and haulage bosses, Transport Minister Keith Brown also agreed to commission consultants to review the impact of removing RET from large freight.
The consultants' draft final report said the negative effects included squeezing margins and increasing costs for hauliers.
The Scottish government said: "As the report states, it is hard to assess the impact of the removal of RET against the general economic slowdown. There has been a 16% increase in haulage costs between 2008 and 2012, primarily due to increases in other costs such as the 17% increase in fuel costs, which itself counts for a third of all haulage costs.
"We are establishing a working group including a broad representation of key stakeholders to undertake a comprehensive review of commercial vehicle fares across Scotland's entire ferry network.
"The report states that businesses in the Western Isles, Coll and Tiree stressed the need for a clearly defined long term fares strategy, which this review will deliver. Our aim is to deliver a commercial vehicle fares structure for all Scotland's islands that is fair, transparent and straightforward as well as delivering best value for taxpayers at a time of severe cuts to the SG budget.
"In spite of significant cuts imposed by the UK government, we have continued to invest record sums in ferry services."
Gail Robertson, OHCG co-ordinator, said she hoped the report would result in an "equitable fares system".
She said: "It is an instructive document that clearly shows the devastating, negative impact the removal of cheaper fares are having on island families and businesses."
'Support continues'
The comhairle said the report confirmed that hauliers did pass on the savings from RET to consumers and that since its removal prices had increased.
Council leader Angus Campbell said: "The Scottish government now has the evidence that RET was working as planned and that there were real, substantial benefits to the fragile economies of island areas.
"The removal of RET for commercial vehicles has been damaging for the economies of the islands, particularly smaller Islands such as Barra, Benbecula and the Uists, and has been detrimental for consumers who have faced increased prices as a result."
Labour transport spokeswoman Elaine Murray said: "A report commissioned by Keith Brown himself provides evidence that his decision to remove RET from commercial vehicles has been a disaster. He must now come to parliament and explain what he will do in light of the report."
Scottish Liberal Democrat MP for Argyll and Bute Alan Reid said: "The SNP must reverse these disastrous fare increases immediately and do as they promised before the election by allowing all of our islands to benefit from RET on commercial vehicles."