Blaze at Al Fayed's Falls of Shin Visitor Centre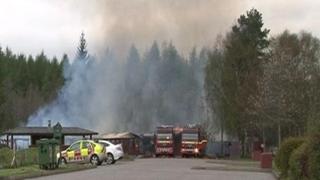 Firefighters and police are investigating the cause of a blaze at the Falls of Shin Visitor Centre, near Lairg in Sutherland.
The alarm was raised at about 10:15 and four fire engines and about 30 firefighters were sent to the scene to bring the fire under control.
The main part of the building has been destroyed.
The centre, which has a restaurant and shop, is owned by businessman Mohammed Al Fayed.