Accused 'knew nothing' about Liam Aitchison murder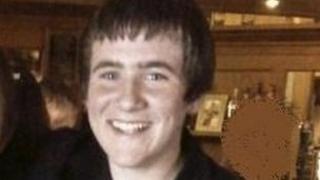 A man accused of killing Liam Aitchison told police he did not know what they were talking about when asked about the teenager's murder, a jury has heard.
Stefan Millar, 22, also refuted a claim during the December 2011 interview that he had struck Liam on the head with a bottle.
The evidence was heard at the trial of Mr Millar and Johnathan MacKinnon, 22, at the High Court in Glasgow.
The men deny murdering Liam in Steinish on Lewis on 23 November 2011.
It is claimed the 16-year-old from South Uist was struck on the head and body with a knife and bottle as well having his head stamped on.
The court heard how Mr Millar, of Inverness, was interviewed after the discovery of Liam's body in a derelict building.
He was asked by a detective to say what his involvement was in the murder.
Mr Millar replied: "I don't know what you are talking about."
Police later put to him that they had information that Mr Millar hit the teenager with a bottle.
Mr Millar said: "I don't know who is giving you this information as it is not true."
He was also asked about an allegation that co-accused Mr MacKinnon had previously punched Liam amid claims the teenager had taken a bottle of aftershave.
Mr Millar, who claimed to be aware of the incident, was asked why he had not mentioned it.
He told police: "It did not seem important." Mr Millar said there was a "big difference" between punching someone and murder.
The trial, before Judge Lord Kinclaven, continues.