Met Office warns of wintry weather in Scotland's hills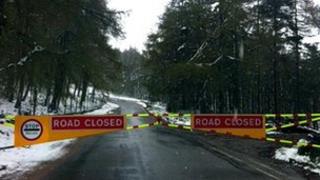 The Met Office has warned walkers and climbers to expect wintry conditions in Scotland's hills and mountains over the next few days.
It said bitterly cold and strong northerly winds and snow would "present some very challenging conditions".
The Met Office added that the conditions were forecast to improve over the weekend.
Police said the A939 stretches between the Lecht Ski Centre and both Corgarff and Tomintoul were closed by snow.
Met Office chief forecaster Martin Young said: "Although we are well into May we will see some very difficult conditions on the mountains, especially on Thursday.
"On the tops of the mountains in Scotland we could see winds gusting up to 80mph, giving blizzard conditions in the snow and making things very hazardous."
Coldest spring
Bob Kinnaird, of the Scottish National Outdoor Training Centre, said the conditions could be severe.
Mr Kinnaird added: "Although it's not that unusual to encounter winter conditions on the Scottish hills at this time of year, this is a very severe forecast for the high tops.
"While this still leaves plenty of options to enjoy the hills, careful consideration should be given to planning and route choice, particularly for those who have little experience of mountaineering in Scottish winter conditions."
The Met Office also said that data gathered so far suggested that this spring was on course to be the coldest in the UK since 1979.
Estimates of the mean temperature for the whole season have been made based on data from 1 March up to 15 May, as well as an assumption of average conditions through to the end of this month.
Met Office said temperatures recorded up to the end of May could change the final figures.
The estimates suggest the mean UK temperature for spring will be about 6.1C, which would make it the 6th coldest spring in national records dating back to 1910 and the coldest since 1979 when the mean temperature was 6C.