Great Gatsby producer hopes to film in the Highlands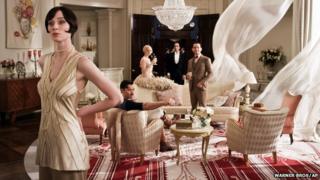 A producer who worked on a new movie adaption of the book The Great Gatsby hopes to shoot scenes for a new film trilogy in the Highlands.
Barrie Osborne was also a producer on sci-fi The Matrix and The Lord of the Rings trilogy.
He is now working on adaptations of books written by Highlands-based photographer and author Nick Sidle.
Mr Sidle, who lives in Kiltarlity, has written The Heartstone Odyssey under his pen name Avran Kumar.
Osborne worked with other producers and director Baz Luhrmann on the newly-released The Great Gatsby.
At a function hosted by Highland Council, he said he planned to film parts of the last in the Heartstone fantasy adventure trilogy in the Highlands.
Osborne arrived in Inverness from the Cannes Film Festival.
He has visited possible locations, including the Bone Caves, near Inchnadamph, and Fort George, near Inverness.
The producer said: "Filming in the Highlands region will be a challenge but also a great opportunity, particularly to develop innovative techniques and approaches to filming, and you can't fail to be inspired by the area."