World's deepest nuclear clean-up a step closer to starting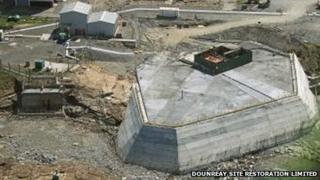 The world's deepest nuclear clean-up job has moved a step closer to getting under way.
A robotic crane will be used to remove radioactive waste from a 65.4m (214.5ft) pit, called The Shaft, at Dounreay in Caithness.
Highland Council has given planning permission in principle for the construction of the infrastructure needed to make this work possible.
It forms part of wider work to demolish the nuclear power plant.
The Shaft was sunk in the 1950s close to the shores of the Pentland Firth.
It has been the subject of local legend, including the claim that one worker dropped his mother-in-law's ashes inside.
Radioactive waste was disposed there from 1959 to 1977, when an explosion ended the practice.
A year ago, the executive team at Dounreay said work on cleaning up The Shaft, which is covered by a massive bunker-like structure, would be accelerated.
On the surface, The Shaft is protected by a massive bunker-like structure.