Keith Brown 'underlines' Inverness-Gatwick air link worries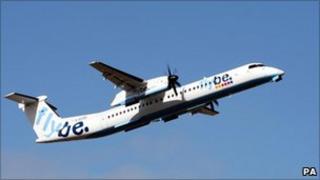 Transport Secretary Keith Brown has "underlined" concerns about the future of air services between Inverness and Gatwick in a meeting with Easyjet.
The airline is set to take over take-off and landing slots at Gatwick from Flybe next year.
The sale would end Flybe flights between the London airport and Inverness.
Mr Brown said Easyjet bosses said they were committed to maintaining their airline's flights between the airports.
Business leaders, Highland councillors and politicians have concerns about the expected loss of Flybe's three-times-a-day service.
Easyjet, which also operates a Gatwick-Inverness service, is set to take over the slots next March in a £20m deal.
Mr Brown said: "Flybe provided early reassurances that the current service levels will continue until summer 2014, when the slots are passed to Easyjet.
"Today's meeting allowed me the opportunity to underline the Scottish government's desire to see Easyjet operating additional services from Inverness.
"I welcomed Easyjet's commitment to maintaining their existing capacity between Inverness and London Gatwick and London Luton and their openness to consider more flights from Inverness."