Cape Wrath community land bid moves forward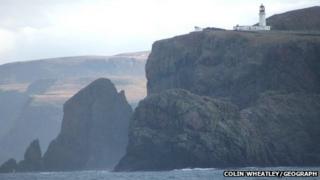 A community group has moved a step closer to taking over land next to the historic Cape Wrath Lighthouse.
Environment Minister Paul Wheelhouse has approved Durness Development Group's bid to register interest in taking over the 111-acre (45ha) site.
The Ministry of Defence (MoD) had been interested in adding some of the land to the 25,000 acres (10,117ha) it already owns in the area.
Writer Robert Louis Stevenson's grandfather designed the lighthouse.
First Minister Alex Salmond has welcomed the latest development.
He said it marked a step towards the Scottish government's new target of a million acres of land in community control by 2020.
Mr Salmond added: "If the community is able to go ahead and successfully purchase the land, it will secure a stronger local economy for the people of Durness and preserve one of Scotland's iconic landscapes for generations to come.
"Put bluntly, we would see more benefits for the local area rather than more land for bombing - the principal use the rest of the Cape is put to by the MoD."
Cliff paths
Cape Wrath is an important training area for the armed forces.
Live firing by the British Army, Royal Navy and RAF takes place on parts of the land owned by the MoD.
Last month, the ministry dropped its interest in buying almost 60 acres (24ha) near the lighthouse.
The MoD had proposed using it to create new artillery and mortar positions and troop accommodation.
Durness Development Group sought to prevent the sale and applied to register its interest in acquiring the land.
The group claimed historic buildings, such as a ruined signal station, would be demolished and the public would also be prevented from using spectacular cliff paths if the MoD got the land.