Fishing fly-tying master Megan Boyd's story told in film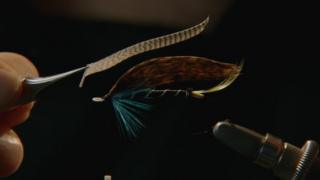 A new documentary casts a light on the life and work of Megan Boyd who gained a reputation as one of the world's best makers of fishing flies.
The way in which the film Kiss the Water came about is almost as intriguing as the woman herself.
US director Eric Steel, who had never been to Scotland or fly-fished, found himself drawn to both while reading an obituary in the New York Times in December 2001.
Steel, who at the time had been a producer on films such as Angela's Ashes, Bringing Out the Dead and Shaft, became fascinated by the story of an English-born woman who, from a tin-roofed shed in the Highlands, created delicate fishing flies from fur and feathers.
Megan Boyd's flies were sought after by anglers in the UK and America and used by Prince Charles, a regular visitor to Sutherland, where she lived most of her life in a small cottage at Kintradwell, near Brora.
While she crafted for up to 16 hours a day at her creations Ms Boyd refused to go fishing, telling friends that she would not be able to bring herself to kill a salmon.
Romantic ideas of the woman working alone at her art in a tiny Highland cottage kept its hooks in Steel through various projects.
His debut documentary, The Bridge, which explored suicides at San Francisco's Golden Gate Bridge, was filmed during 2004 and released two years later.
Steel was also a producer on 2009's Julie & Julia, a comedy drama starring Meryl Streep and Amy Adams.
The director eventually returned to the newspaper clipping about Ms Boyd and travelled to Sutherland where he interviewed people who had known her well.
The result of those interviews was Kiss the Water.
'Exotic feathers'
The documentary was shown at this year's Tribeca Film Festival in the US and at the Edinburgh Film Festival.
Steel told the Tribeca festival: "At first, I think I was fascinated with the very romantic notion of a woman all alone in a tiny cottage, spinning exotic feathers and fur into fishing flies into these tiny works of art.
"Maybe there was a part of me that fantasised about that kind of monastic and creative life.
"Over time, though, I began to see between the lines - to imagine that the life she led was very different from the way people talked about it.
"It was these strange glimpses that made me want to explore further."
Ms Boyd was a girl when her family moved to Scotland where her father worked on an estate. She received no formal training in tying flies but learned the trade from gamekeeper.
Her appearance and lifestyle are described by the film's interviewees, but she is only glimpsed fleetingly at the end of the documentary.
In life too, she appeared to shun the limelight even though she was given plenty of opportunities to step into it.
She was awarded a British Empire Medal, but wrote to the Queen saying she could not attend the presentation because she had no-one to look after her dog.
Prince Charles later presented her with the honour at his fishing lodge in the far north of Scotland.
The pair became friends and Ms Boyd sent him a fishing fly on his engagement to Lady Diana Spencer, with a note saying she was a "great catch".
Her obituary in the New York Times also tells of another brush with royalty.
An aide to Prince Charles came to her door asking if she could tie together a couple of her "masterpieces". She told she could not because she was attending a local dance.
Failing eyesight eventually forced Ms Boyd to retire when she was 70 and she moved into a nursing home. Her friend the prince was among her visitors at the home.
She died in Golspie in Sutherland in November 2001 at the age of 86.