Kessock Bridge to reopen fully on Saturday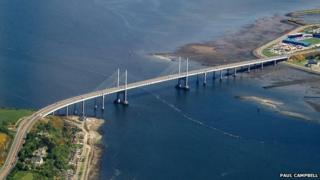 All lanes are to be reopened on the Kessock Bridge at Inverness on Saturday following months of major road works.
Transport Scotland said some final tasks would still have to be done and this would be carried out over two weeks at off-peak times and at night.
The speed limit on the bridge will be restricted to 30mph when workers are on the crossing.
Bad weather delayed the completion of the upgrade of the northbound carriageway, which started in February.
Work to upgrade the southbound carriageway will be carried out next year.