Girl, her mother and a man die after crash on A9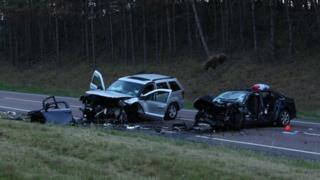 A two-vehicle crash on the A9 claimed the lives of a mother, her young daughter and a man, police have said.
The woman's husband and their other young daughter were seriously injured in the collision that happened at Kingussie at about 18:00 on Tuesday.
The family's blue Audi was involved in a crash with a silver Jeep Cherokee. A man in the Jeep died while its other occupant, a woman, was badly hurt.
Police said none of those involved were from the Highlands and Islands area.
The accident happened on a single carriageway section of the road.
The three injured people were said to be in a stable condition in Raigmore Hospital in Inverness.
A third vehicle was said to have sustained minor damage in what was believed to be an incidental collision after the main crash.
It was understood that two of the vehicles were British-registered and the third had a German registration plate.
A diversion route set up after the crash was blocked for a short time after a lorry broke down.
The main trunk road re-opened at about 23:20.
Eighty miles of the A9 between Inverness and Perth are to be upgraded to dual carriageway status by 2025 at a cost of about £3bn.
The crash led to fresh calls for improvements to the A9 to be implemented before then to make the road safer.
Neil Greig of the Institute of Advanced Motorists said improvements to driving conditions would lower the risk of accidents.
'Platooning effect'
He said these included raising speed restrictions for large heavy goods vehicles (HGVs) from 40mph to reduce the risk of frustrated motorists making dangerous overtaking manoeuvres.
Mr Greig told BBC Radio Scotland: "What tends to happen on the A9 is you get this platooning effect when people get held up behind the slowest moving vehicle.
"What we need on the A9 are more overtaking opportunities and ultimately the full dual carriageway status, but that is still 10 years away.
"We would quite welcome an increased speed limit for HGVs because of this platooning effect. It could possibly be put up to 50mph. It is something that help in the short term."
Last year, Inverness lorry driver Conor McKenna launched a campaign backed by Highlands MSP David Stewart to have HGV speeds raised.
'Signing and lining'
Transport Scotland said improvements were already being made ahead of the completion of the dual carriageway project.
A spokesman said: "Our deepest sympathies are with family and friends of the victims at this time.
"As a police investigation is on-going it would be inappropriate to comment on the specific nature of the accident."
He added: "Dualling the A9 has been talked about for a generation but we are now inviting bidders for three big design contracts for the route. We hope to start construction on Kincraig to Dalraddy in 2015/16 and then on Luncarty to Birnam section in 2017.
"In the shorter term, Scottish Ministers have also asked the A9 Safety Group to develop additional actions such as improved consistency of signing and lining, improved geometry, variable messaging signs displaying journey times and average speed cameras."
The spokesman said road casualties in Scotland were at their lowest level since records began, but added that there was "clearly much work still to be done".