LifeScan Scotland reducing size of Inverness workforce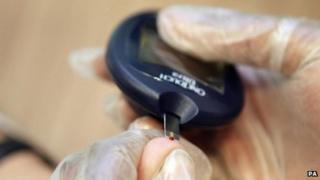 A plant that manufactures devices for diabetics has announced it plans to axe about 40 posts.
LifeScan Scotland, a Johnson & Johnson-owned company, employs about 1,100 people at its Inverness site.
Last June, the business was awarded £2.8m of public money towards a £9.5m project that it said would allow it to be innovative and make jobs secure.
LifeScan said the reduction in its workforce was a reaction to "shifts in the global diabetes market".
The company is one of the biggest private employers in the Highlands and manufactures blood glucose monitoring devices.
Tito Bacarese-Hamilton, head of research and development in Inverness, said: "We understand this is a difficult time and we will do all that we can to assist those employees affected by this decision.
"The fundamental change in the global diabetes market, owing to the economic strain on healthcare today, requires us to change the way our business is structured to enable us to meet the new challenges."
Fraser Grieve, Highlands and Islands manager at the Scottish Council for Development and Industry, said it was hoped that LifeScan would remain committed to the Inverness plant.
He said: "We understand the uncertainty this announcement will cause for LifeScan Scotland's 1,100 staff based in Inverness and it is regrettable that they are having to reduce their workforce here by 40 posts as a result of the shift in the global diabetes market.
"We know that this decision is a result of workforce reductions around the world and know that LifeScan Scotland remain committed to their base here and that Inverness will remain the home of their global R&D."
Last summer, the Scottish government said the future of more than a thousand medical company jobs in the Highlands had been secured by a £9.5m project.
The project made the Inverness site the base for all research and development of the US giant's blood glucose monitoring work.
The £9.5m investment included up to £2.8m from public agency Highlands and Islands Enterprise.