NHS Western Isles makes overpayment on government loan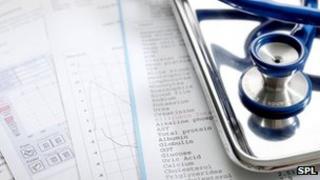 A health board is set to pay off a loan it received from the Scottish government to help it resolve financial problems a year early.
NHS Western Isles was criticised by MSPs in 2008 for failing to put in place adequate financial controls and rein in debts of £3.36m.
The following year the government gave the health board a loan of about £3.1m.
The board made an early repayment in 2011-12 of £631,000 and an overpayment of £685,000 in 2012-13.
Repayments were due start in 2012-13.
However, the board managed to make an early start on paying off its loan and, after balancing its books for a sixth year, has been able to pay more than the £85,000 it had been due to pay in 2012-13.
NHS Western Isles said the loan should be paid off in 2016-17, a year sooner than it had expected to.
Board chairman Neil Galbraith described the board's financial position as a "tremendous accomplishment".
Chief executive Gordon Jameson added: "This is a morale booster for us all as it demonstrates significant progress and should give us all confidence in the fact that our service delivery, monitoring and control systems are working effectively.
"Staff have worked extremely hard to protect and deliver an improved level of service to patients, whilst maintaining a strong financial position. We should all feel very proud of what has been achieved."
'Fed up'
The running of NHS Western Isles was severely criticised by the Scottish Parliament's audit committee in 2008.
As well as the board's debt problems, MSPs also said that it having three chief executives - one suspended, one on secondment and one acting - was unacceptable.
It called on the Scottish government to work with the board to resolve the situation urgently.
But NHS Western Isles' problems had started before 2008.
Two years earlier, the then health minister Andy Kerr installed a new interim chairman on the board amid a row over the running of the service.
Mr Kerr, who also sent a managerial support team to the isles, said he was "fed up" with the organisation's failure to perform as a corporate body.
The minister's actions followed the resignation of chairman David Currie after five years in the post.
Mr Currie said he had found it increasingly difficult to balance the job with his other commitments.
The board was at the time dogged by controversies, including accusations of mismanagement and of cutting services.
It had also faced a vote of "no confidence" by staff earlier in the year.