Sainsbury's apologise again for salmon labelling error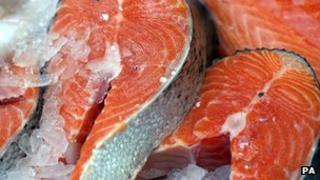 Sainsbury's has made a second apology for an error in the labelling of some of its Scottish salmon products.
The packaging said the smoked fish was sourced from sea water farms at locations around Skye, Lewis and Uist.
However, the salmon sold was in fact farmed in Loch Fyne, a sea loch on the Argyll mainland. Sainsbury's issued an apology in May over the labelling.
It has had to say sorry again after it emerged the product was still being sold with the wrong labels in England.
The matter was raised by Salmon and Trout Association Scotland. It previously complained to the Advertising Standards Authority and Trading Standards about the labelling.
Association chairman Hughie Campbell-Adamson said it was an "almost unbelievable state of affairs".
Sainsbury's said: "We would never seek to mislead our customers and would like to reassure them that this error has had no impact on our industry-leading sourcing standards."
A spokesman said all of Sainsbury's salmon suppliers had environmental management systems in place and were independently certified to meet industry standards for good agricultural practice.
"They also all participate voluntarily in the scheme relating to the code of good practice for Scottish Finfish Aquaculture," he said.
He added that new packaging would be in stores from the beginning of next week.