Woman 'forced to clean up after rape' in Inverness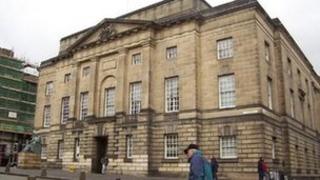 A woman has told a trial at the High Court in Edinburgh how she smeared her blood behind a bed head after a man raped and threatened to kill her.
The 48-year-old said her actions were an effort to leave evidence of the alleged attack.
She also said that she had been forced to clean up the bedroom, wash the bed sheets and take a shower.
Andrew Peters, 32, denies raping the woman at his then address in Inverness on 4 November last year.
He denies an attempt to defeat the ends of justice by concealing and destroying evidence.
Mr Peters also denies raping and assaulting another woman at addresses in Inverness.
'A mannequin'
Explaining why she smeared the blood, the woman told the court: "I was thinking: if I am going to die, possibly someone will find it."
She said her teeth were broken and blood poured from a wound to the back of her head during the attack.
The woman told the court that when it finally ended she felt "like a broken animal wanting to hide".
She added: "I just wanted to crawl under the bedclothes and hide."
A jury also heard a tape recorded 999 call of the mother-of-two begging for help and saying she had been subjected to a 10-hour ordeal of rape and abuse at a house after a chance meeting with Mr Peters.
The woman told how Mr Peters made her clean the room where she had been stripped, raped and made to pose "like a mannequin."
He demanded she removed all traces of what had happened and scrub the bed and put the sheets in a washing machine, the woman said.
In the 999 call she continued: "He pushed me in the shower. He made me shower. It is like he has done it before.
"He has practiced all this. I am probably not the first woman he has assaulted."
In court the woman gave evidence from behind screens. She said: "This guy is obviously very forensically aware."
Body bags
She said she had met Mr Peters in a pub and went back to his home because he lived near the canal and she was interested in boats.
Once in his sitting room there was "an attitude shift" and he began to call her names and she tried to leave.
The woman said she was punched and described Mr Peters as being angry and aggressive.
When the next morning came, she said, he did not seem to know what to do. He started talking about the canal and body bags.
She told the court: "I honestly thought at that point: this is how my life is going to end."
Defence QC Frances McMenamin said: "When Peters was first spoken to by police he said it was consensual sex and you wanted money for it."
'Lashed out'
The woman said there was "absolutely no truth" in that suggestion.
Ms McMenamin said Mr Peters' version of events was that after arriving at the house he played guitar and they danced.
There had been no violence before they went to the bedroom, and it had been "very clear" that sexual activity was bound to take place.
Mr Peters claimed the woman undressed and he stripped down to his boxer shorts, which she took off for him.
While kissing on the bed she bit his tongue and he lashed out. Mr Peters also said the woman fell off the bed because she was drunk.
The trial continues.