Ben Nevis: Man dies after collapsing on mountain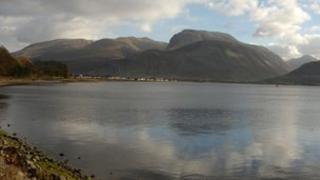 A man has died after collapsing while attempting to climb Ben Nevis, police have said.
The 51-year-old from the Glasgow area collapsed on Saturday, with police alerted at 12:25 BST.
He was airlifted to Belford Hospital in Fort William by an RAF helicopter but was pronounced dead on arrival.
His climbing partners and two off-duty doctors had tried to revive him on the mountain before the helicopter arrived.
"Police at Fort William received information regarding a 51-year-old man who had collapsed whilst ascending the Ben Nevis path," a police spokesman said.
"The man was tended to at the scene by his companions and two off-duty doctors before the arrival of RAF Helicopter R137.
"The man was thereafter airlifted to the Belford Hospital in Fort William where, on arrival, he was pronounced dead."
Ben Nevis, Britain's highest mountain, is a popular destination for hikers and attracts more than 100,000 visitors a year.
In February a man died after falling about 50m (164ft) in the Raeburn's Buttress area on the north face of the mountain.