Sale of wild goose meat may be allowed on Uists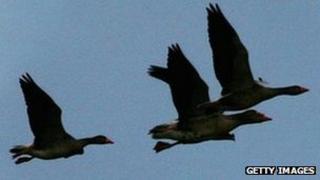 The sale of meat from culled wild greylag geese could be allowed on the Uists under a pilot scheme.
A growing resident population of the birds has been blamed for damaging crops, pastures and even grass on football pitches on the isles.
Rules banning the sale of wild goose meat have already been relaxed on Orkney, where islanders have made similar complaints about greylags.
Scottish Natural Heritage is considering running the Uists trial.
Western Isles SNP MP Angus MacNeil has welcomed the move.
But he added: "We also need to look at other measures to try and keep the geese numbers down, as the problem has escalated out of control over the past number of years."
Geese could end an entire way of life on the Western Isles, the Scottish Crofting Federation (SCF) said earlier this month.
SCF has raised an online petition with the Scottish Parliament urging the Scottish government to do more to control goose numbers.
The government said it spends £1.2m a year on goose management.
Ena MacDonald, an SCF representative, said there were an estimated 10,000 geese in the Uists.
She said: "This is the greatest threat to crofting in the islands and could see the end of this way of life."
NFU Scotland has also raised concerns about geese numbers in the past.