Crumbs! Will my cake rise to the occasion? Or fall flat?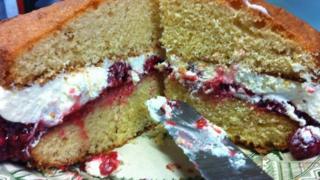 Great British Bake Off 2013 comes to an end tonight. My editors wanted to mark the occasion.
"Get Huw to make a cake," someone said.
If only they'd known how much terror that apparently simple idea was to unleash.
Think really good home baking and you think of the Scottish Women's Rural Institute (the equivalent of the WI, if you're south of the border).
The WRI? Terrifying?
Well, yes. Truly.
I ended up at the Royal Deeside home of Frances Johnstone - Ballater's answer to Mary Berry.
She's an award-winning baker. She's judged more cake competitions than you've had hot dinners. Prince Charles has praised her Clootie Dumpling. And she's a huge fan of the tv series.
She's warm. Charming. Friendly.
All of those things, combined with a steely expertise.
You get the sense that she could sniff out a soggy bottom faster than Paul Hollywood. And she's not going to be impressed with an uneven bake. Or any stray bits of egg shell that make it into the cake mixture.
She's got a recipe ready for me when I arrive at her house.
The classic of home baking. An apparently simple Victoria Sandwich.
Named, apparently, because the eponymous monarch - who often stayed up the road at her beloved Balmoral - was partial to a slice with her afternoon tea.
Luckily Frances has decided we're going for the all-in-one method. Not the much more difficult traditional method, with the ever-present risk it'll curdle when you mix in the eggs.
So I grease and line the tins with baking parchment. Sieve eight ounces of self-raising flour into a big brown bowl. Add eight ounces of caster sugar. Chop up eight ounces of butter. Pour in four eggs, and add two tea spoons of baking powder.
I'm getting ready to mix it all together. But Frances intervenes.
The recipe was written by her heroine, Mary Berry. But. Mary Berry got it ever so slightly wrong, apparently.
"I always like to add a pinch of salt to all my recipes," Frances explains.
And there's no mention of vanilla essence, either. But again that will make it better. So, in it goes.
As I turn on the hand mixer, flour goes everywhere. Frances winces, slightly. But doesn't say anything.
I'm talking too much. Interviewing Frances for a report on BBC radio's "Good Morning Scotland" programme. Trying to understand the secret of a really successful cake. So I forget to take a note of the time.
The recipe says beat the mixture for two minutes. I have no idea how long I actually mixed it for.
Then it's time to divide the batter between my two prepared tins.
I roughly spoon the mix into two halves, and get ready to smooth it down.
But Frances wants me to weigh the tins. to make sure the division is truly accurate.
By pure fluke both tins weigh exactly the same. Frances beams. By mistake I've done something exactly right.
Then it's into the pre-heated oven. For 25 minutes.
Just time for Frances to spell out what a Victoria Sandwich should be like.
"Well risen. Nice colour. Good texture. Good taste. And, obviously, very light."
I giggle nervously, as the kitchen fills with the smell of cooking cakes.
And peer through the glass of the oven as they seem - unbelievably - actually to be rising.
They're taken out. Removed for their tins. Left to cool on wire racks.
So, what does Frances think?
"They're very even. Not too bad."
So, not prize winners then?
"It would depend what else was entered, doesn't it?" Frances laughs.
Then, the crucial taste test.
And again her verdict is carefully calibrated. They are, she pronounces, "very edible".
Not, you'll note, very delicious. But at least very edible.
So what went wrong?
"I thought they might have risen a wee bit more. I wonder if you did enough beating. I'm not too sure on that."
So when the time comes to serve my cake to the programme's presenters I decide to resort to a distraction technique. Slavering the whole thing with fresh whipped cream. Really good jam. And fresh raspberries.
All to draw attention away from the actual sponges themselves.
So, terrifying? Yes. But with a lot of laughter. And a "very edible" cake at the end of it.
Next time, though, I'm going to suggest Frances does the baking. While I watch. And learn.