Fish shoal sculpture to be installed in Ullapool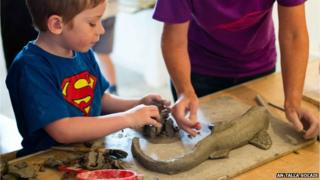 A fish shoal sculpture is to be installed in Ullapool at the weekend.
Local people were involved in creating hundreds of individual fish from clay for the artwork.
Ceramic artists Kevin Morris, Allison Weightman and Fergus Stewart led workshops as part of the Earth Fins and Fire project.
The project was led by Ullapool arts centre An Talla Solais and the sculpture will be installed outside the town's leisure centre.
The clay fish were modelled on real ones brought in by the public. They included salmon and deep sea species brought in by fishermen.
Every child attending Ullapool Primary School made a replica fish.
Pupils at Badcaul and Achiltibuie primary schools and Ullapool High School also took part in the workshops, which were held over the summer.
Dozens of fish and starfish shapes were also cut from clay for the new artwork.
The sculpture will be installed at the weekend and officially unveiled on Tuesday.
The project has been funded by Creative Scotland, Sylvia Waddilove Foundation and Highland Council.