NHS Western Isles flags up technology in annual review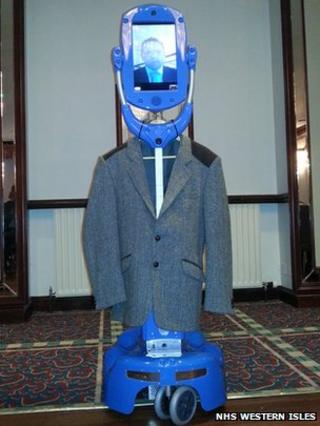 A health board has highlighted its use of new technologies in its annual review.
NHS Western Isles' community nurses are among the first medical staff in Scotland to use digital pens.
The devices record and save handwritten notes in a digital format, meaning nurses can spend more time with patients and less time on paperwork.
NHS Western Isles is also preparing to put robots into the homes of people with dementia.
A relative or carer - potentially hundreds of miles away - can drive the machine around the house to check that everything is all right.
The pair can also have a chat through a two-way video call system.
The Giraff robots are 1.5m (4ft 11in) tall with wheels, and have a TV screen instead of a head.
A relative or carer can call up the Giraff with a computer from any location. Their face will appear on the screen allowing them to chat to the other person.
The operator can also drive the robot around the house to check that medication is being taken and that food is being eaten.
NHS Western Isles will be piloting the Giraff for the first time in Scotland, as part of the European Union project Remodem, which aims to investigate ways to support people with dementia living in remote communities.
In its annual review, the health board said it had met, or exceeded, most national targets for patient care.
However, it failed to meet targets on patient discharge times and for reducing CO2 emissions.