Inquiry opens into Skye haulier John MacKinnon's death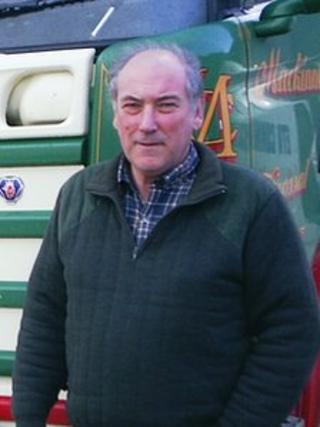 A haulier was electrocuted escaping from his burning lorry, a fatal accident inquiry (FAI) has heard.
John MacKinnon died after an overhead power line was cut and caused the fire in an area of forestry between Kyleakin and Broadford on Skye in December 2011.
The inquiry in Inverness heard that the crane grab on his lorry was extended at the time of the incident.
The FAI also heard that the 65-year-old took health and safety seriously and was the "best haulier on Skye".
Mr MacKinnon, who was from Crossal and ran the firm Skye Transport, died at the scene of the incident at the Forestry Commission's Kyle Farm.
Power had to be switched off for a short time to allow rescue workers to access the scene, cutting the electricity supply to every property in the Western Isles and Skye.
The inquiry heard that firefighters found Mr MacKinnon's body about 10m (33ft) from his vehicle.
The only clue then that he had been electrocuted was a hole in his boot. A post mortem later revealed that an enormous power surge had killed him.
'Better reception'
Lorry driver Donald McFarlane, 47, from Skye, was working with Mr MacKinnon at the time.
He said his lorry had been loaded up with timber by Mr MacKinnon using a piece of equipment the company had bought a few weeks earlier.
Mr McFarlane said: "As I came in to the forest, I saw John on his phone.
"There was a poor mobile phone signal there and I can only think that he moved the vehicle to get a better reception. He sometimes left the crane jib fully extended if he was moving the lorry only a short distance.
"He wouldn't leave it up normally. It was a job to fold it - it took several minutes."
He also said that Mr MacKinnon took health and safety seriously.
Michael Thompson, director of Munro Harvesting of Maryburgh, told how he had contracted Mr MacKinnon's company to move harvested timber he had purchased from the Forestry Commission.
He said he had conducted a risk assessment prior to the job starting but it was not given to Mr MacKinnon.
Mr Thompson also said he had not given him maps which highlighted overhead power lines on the farm.
He said: "We conducted a pre-commencement meeting with the Forestry Commission prior to the contract starting, but no-one from Skye Transport was there. It has never occurred in my experience.
"The risk assessment was given to the commission and the operators, but not to the hauliers. Historically, we have never provided maps to haulage contractors. But that has now changed after what happened.
"I didn't know John was using a crane for the job. If I did, I would have spoken to him and reminded him of the risk involved of the overhead lines crossing the road. He was the best haulier on Skye."
'Rigid crossbar'
Asked by Forestry Commission lawyer Stephanie Higgins if he had complied with health and safety guidelines for this contract, Mr Thompson said: "I wouldn't want to comment on that."
Liam Matheson, a civil engineer for the Forestry Commission, told the inquiry that poles known as goalposts with bunting strung across the top were used to warn drivers of overhead power lines.
He added: "We now have goalposts with a rigid crossbar."
Another Skye Transport driver, Ross Cumming, said that some of the goalposts in the area had bunting, and others had not.
The inquiry at Inverness Sheriff Court before Sheriff Margaret Neilson is expected to conclude on Tuesday after a dozen witnesses have been heard.