Raigmore Hospital asked to improve dementia patient care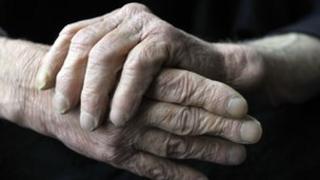 Staff at Raigmore Hospital should routinely screen older people for memory and thinking problems when they are admitted, according to inspectors.
Healthcare Improvement Scotland also said the hospital in Inverness needed better signs to help patients find their way around the building.
But inspectors said they also noted good examples of "warm and caring" interaction between staff and patients.
Patients were also treated with respect and dignity.
A healthcare improvement team made an unannounced visit to Raigmore in September.
In a new report following that inspection, they have asked NHS Highland to carry out some improvements.
Raigmore was found to have no routine screening for cognitive impairment when older patients were admitted.
The report also said wards and other parts of the hospital had to be made more suitable for people with dementia.
Inspectors added: "Although we found that care delivered to patients appeared to be appropriate and of a good standard, we were not assured that patients, identified as having a cognitive impairment, had a personalised care plan in place.
"This care plan should identify the specific needs of the patient and how staff will meet these needs."