Bid to open Benbecula's first chemists rejected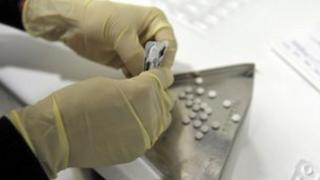 A pharmacies company has been refused permission to open the first chemists on Benbecula in the Western Isles.
The isles' pharmacies practices committee has agreed unanimously to refuse the application to set up a premises in Balivanich.
Committee members said they had not been convinced by Local Pharmacies Limited's case for the chemists.
Local GPs who receive funding to dispense medication had opposed the application.
The doctors, and other opponents of the bid, said this service would end if a chemists opened and leave some people with 60-mile (96km) round trips to collect prescriptions.
Island councillor Uisdean Robertson said it would be unacceptable for patients to make long trips to pick up medication.
Local Pharmacies Limited said it had identified public support for a chemists.
The situation on Benbecula could lead to a change in the legislation surrounding applications for community pharmacies.
'Right decision'
Western Isles SNP MSP Alasdair Allan said Health Secretary Alex Neil was aware of the opposition to the planned chemists and was considering an amendment to the regulations.
Mr Allan added: "Although the Scottish government remains committed to the principle of ensuring access to pharmaceutical services, it is clear that this must not be at the cost of destabilising the services already in place."
The isles' SNP MP Angus MacNeil said he was glad the application had been rejected.
He added: "This is the right decision but we have to go to the Scottish government to ensure that the possibility of this does not arise again and that health concerns are always paramount before business concerns."
The Western Isles committee's decision emerged following a meeting of about 500 people to discuss plans for a new pharmacy in Castletown in Caithness.
Organised by the local community council, it heard concerns that a chemists would impact on the viability of Canisby and Castletown GP practice.
NHS Highland has sought to reassure people that the services provided by doctors would continue.