Glasgow chemist boss 'will not be bullied' on Caithness bid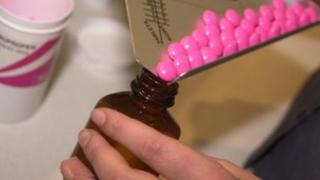 The owner of a pharmacy business says he will not be bullied into dropping proposals for a chemist in Caithness.
Sanjay Majhu, who runs Glasgow-based Apple Pharmacy Group, plans to open an outlet in Castletown.
A public meeting has heard concerns that it would affect the viability of the local GP practice. NHS Highland said the service would be unaffected.
Mr Majhu said he was not surprised by the local reaction and that he "wholly understood" people's concerns.
He is due to have a meeting with GPs and representatives from the community council. There have been calls locally for him to attend a public meeting.
Mr Majhu told BBC Radio Scotland: "I don't want to be bullied and I don't want to bully anybody.
"I think they think I am some crazy businessman coming up from Glasgow."
He added: "I wholly understand their concerns and that's why I am flying up to meet with the doctors and to meet up to 20 representatives from the community council.
"I think they would have preferred me to have a public meeting, but the problem with public meetings is that I will get drowned out, and whatever message I am trying to send, I will be trying to send to 500 people at the same time."