Inverness West Link: 'Frank talks' on Tesco funding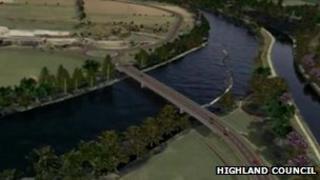 Highland Council and a supermarket giant have held talks on a disputed contribution towards the cost of building a new road in Inverness.
Tesco offered to put up £340,000, but the offer was dependent on the completion of the West Link by 2011.
Council leader Drew Hendry said there was a "frank and very robust" exchange of views on the payment at the meeting.
Tesco described the talks as "constructive" and was looking forward to further discussions.
The planned new road is needed for easing travel across Inverness and to free up congested city centre streets, according to the local authority.
It could cost up to £34m to construct. Building work is expected to begin in 2015.
Tesco has a store next to the proposed route and had been expected to make a developer contribution towards its costs.
However the agreement has since expired and the supermarket chain has complained that the lack of the new road has led to lost revenues at its Ness-side shop.
Mr Hendry told BBC Radio Scotland: "Highland Council is very clear on its legal position. The officers are crystal clear on the fact that there should be a payment.
"We understand that Tesco have a different view.
"We have listened to what they have got to say, but we have also made a very clear case about what we believe their responsibilities are."
In a statement, Tesco said: "We had a constructive meeting with the council and look forward to continuing discussions over the coming weeks."