Scottish island abattoirs offered assistance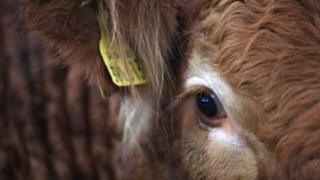 A new project backed by funding from the Duke of Rothesay and the Scottish government aims to give better support to abattoirs on the Scottish islands.
Sites in Shetland, Orkney, Islay, Mull, Lewis and North Uist will be offered funding for upgrades, apprenticeships and also help finding new markets.
Sustaining Island Abattoirs in Scotland has backing from two of Prince Charles's charities.
He said the project would also help crofters and farmers.
The Prince's Countryside Fund and Scottish Business in the Community along with the government are funding the scheme.
Prince Charles said: "It is my strong belief that with the generous assistance of the Scottish government, these businesses can not only have a sustainable future, but can at last help capture the increased consumer demand for traceable, authentic and quality UK meat."
Rural Affairs Secretary Richard Lochhead said meat processing was an integral part of livestock farming.
He added: "The Scotch brand has never been in greater demand locally and across Scotland and the world.
"To fully capitalise on the opportunities we need to take an in-depth look at the issues surrounding livestock production and marketing, and help our producers and processors recognise and seize the opportunities that are now opening up to them."