MP says Tornado crash FAI should consider warning system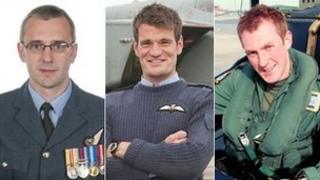 An MP believes the absence of collision avoidance kit on Tornado jets will be "an important consideration" for a potential inquiry into a fatal crash.
Three airmen died when two Tornado GR4s flown out of RAF Lossiemouth in Moray crashed off the Caithness coast on 3 July 2012.
Angus Robertson said equipment was identified in 2008 and a warning system approved in October 2012.
The Ministry of Defence has confirmed the dates in written answers to the MP.
The Military Aviation Authority has provided a report on last summer's incident to the procurator fiscal.
The fiscal will determine whether a fatal accident inquiry (FAI) will be held. The board's report has not been made public.
Bangor-born Flt Lt Hywel Poole, 28, Sqn Ldr Samuel Bailey, 36, from Nottingham, and Flt Lt Adam Sanders, 27, who grew up in Lancashire, died.
Sqd Ldr Paul Evans, from RAF Lossiemouth, survived but was badly injured.
Moray SNP MP Mr Robertson has sought answers to questions about the procurement of collision warning equipment for Tornados from the Secretary of State for Defence.
'Shed light'
In the responses, the MoD said a traffic collision avoidance system was indentified in 2008.
A system with a total cost of £53.46m was approved for installation in October 2012 and a contract for the work required was awarded in December that year.
The first two jets to be fitted with the system were delivered to the RAF in August this year. The roll out of the equipment is to be completed by December 2014.
Mr Robertson said he was awaiting confirmation of an FAI.
He said: "No doubt the absence of a collision avoidance system in Tornado fast jets will be an important consideration and these parliamentary answers from the Ministry of Defence shed light on the issue".
"As in all tragic cases which involved the death and injury of service personnel our thoughts must be with those directly and indirectly affected."