Documentary reveals factors behind Scottish avalanches
A new documentary is to shed light on why avalanches caused so many deaths and accidents in the Scottish hills last winter.
On 19 January 2013 four young mountaineers lost their lives in an avalanche in Glencoe. Another member of the climbing party was seriously injured.
In all, 14 people died in winter climbing accidents last season, one which saw heavy snowfalls and long periods of sub-zero temperatures in some of Scotland's most popular climbing areas.
Mark Diggins is coordinator for the Scottish Avalanche Information Service (SAIS), based at Glenmore Lodge outdoor training centre in the Cairngorms.
He said last winter was different from previous ones because of the unusually high frequency of Arctic conditions.
Mark said people with little experience of these conditions, or of real Scottish winter weather, were caught out.
He said: "It can change so quickly from a lovely day to really violent and full on."
'Weak snow layers'
Every day during the winter Mark and his fellow experts venture into the mountains to check on stability of the snow pack - to forecast the avalanche risks.
As snow falls it forms layers. And sometimes a weak layer will not bond with those next to it.
That means a huge area of snow is in danger simply of breaking off and slipping away. And it is often climbers themselves who trigger the slide.
Last winter the weak layers lasted for a month when in previous winters they would vanish in periods of milder temperatures and rain.
Mark said it was unusual for these layers to linger for so long.
He said: "Those weak layers did not disappear at all and also we had extreme events of wind - a lot of times over 100mph."
These winds transported "massive amounts" of snow on top of the weak layers making the snow pack unstable and more prone to avalanche.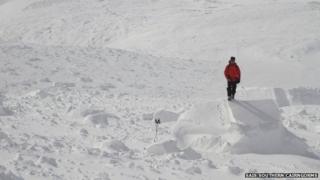 Last winter saw an early start to Scotland's ski season and the cold weather and snowfall largely continued until the spring. And that was due to movements high above the Earth, according to meteorologist Dr Jeff Knight.
He said: "There was an amazing stratospheric event that winter in early January that changed everything for the rest of the winter.
"What we normally have is a powerful vortex with winds going around the North Pole in excess of 150mph. However, the vortex split up in early January and didn't recover for the rest of the winter. This made it colder."
Dr Knight added: "Every time we saw the approach of mild air, it was just swept aside."
Every year Scotland's mountains attract more and more enthusiasts.
It is estimated that climbers and walkers from Scotland alone spent more than seven million individual visitor days in the hills in 2011 - and that figure puts the number of accidents into some kind of perspective.
But research into the characteristics of snow and avalanches continues. Understanding more about the mountains can only make them safer.
One Wild Winter in the Scottish Mountains will be shown on BBC One Scotland at 21:00 on Wednesday.