Police horses in Inverness and Orkney dismissed as stunt by MSP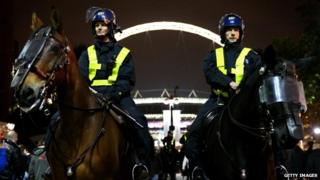 Deploying mounted police on the streets of Inverness and towns in Orkney has been described as a "stunt" by MSP David Stewart.
Four horses and their riders will patrol Inverness this weekend, the busiest in the city before Christmas.
Police said their "highly visible presence" would help to keep people safe and discourage crime.
Mr Stewart said the Mounted Branch had a role in tackling disorder but sending it to the north was a "PR exercise".
He said that at a time when Police Scotland was trying to find savings, deploying horses and riders from where they were based in central Scotland to Inverness and Orkney was an unnecessary expense.
The Highlands and Islands Labour MSP said the Mounted Branch had an operational use in dealing with disorder at marches, demonstrations and football matches.
But he added: "Most like minded people support our police and the work they do throughout our communities, but they are bound to be asking how, in these hard financial times and when such severe savings have to be made, can the police afford to be shipping their horses up to the Highlands and over to our islands?"
Responding to the MSP's comments, Divisional Commander Ch Supt Julian Innes, said the Highlands and Islands were now able to use specialist resources that had not previously been available to police in the area.
He added: "The response from the public prior to the arrival of the Mounted Branch has been extremely positive and we hope they will help in our efforts, as part of Operation Respect, to keep members of the public safe.
"There is a continued demand by members of the public to see a higher visibility police presence on the street. This helps to achieve that and our aim, which is to keep people safe and provide reassurance."
Police Scotland's area commander for Inverness, Ch Insp Graham Murdoch, earlier told BBC Radio Scotland the appearance of the Mounted Branch in Inverness would be "unusual".
However, he said it was relevant to policing in the Highlands.
He said: "These police officers adopt the same style as our own officers. They are community officers.
"Yes, they do police the football and the Mounted Branch does have a role in instances of disorder.
"But a lot of the time you see them in the central belt they are out on patrol in the communities, engaging with people, and this is very much the slant we would put on Inverness."
Black Friday
The horses and riders will be in Inverness on Friday and Saturday, the last weekend before Christmas.
Dubbed Black Friday, it traditionally sees a rush of festive shopping and partying.
Shoppers and revellers are expected to be out in force again on Saturday when Inverness Caledonian Thistle also play Aberdeen. The kick off is 17:30.
Mr Stewart said he was aware of plans to send the horses and riders to Orkney in the new year.
Police Scotland's Mounted Branch is based in Stewarton in Ayrshire.
Prior to 1 April, when Scottish forces merged to form a single police force, the Mounted Branch of Lothian and Borders Police was amalgamated with that of Strathclyde Police.
This merger involved a cut in staff, but the number of horses was maintained at 22.
Mounted police have already been deployed for short spells in Dundee, Dumfries, Arbroath and Aberdeen. In August, they supported the policing operation for the Edinburgh Festival.
In a report published earlier this year, Police Scotland said: "Whilst such deployments often require considerable logistical planning, all have received positive feedback."
There are mounted branches in England, including London, and also other parts of the world, including Belgium, the Netherlands, South Africa, Israel, USA and Canada.