Woman badly injured by 'panicked stag' in Highlands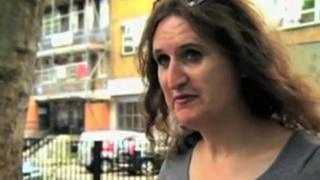 A woman has been badly injured by a stag while on holiday in the Highlands.
Kate Stone, who is believed to be in her 30s and from Cambridge, was hurt in the early hours of Monday morning.
She was first taken by ambulance to Belford Hospital in Fort William before she was airlifted to the Southern General Hospital in Glasgow.
Local man Jim Hunter said it happened as he and a group of people walked to his home after a night out at a pub. He said the red deer had panicked.
The incident happened at Lochailort, near Fort William in Lochaber.
A spokesperson for Southern General Hospital said Ms Stone was in a serious but stable condition.
'Freakish accident'
Mr Hunter told the BBC Scotland news website that she had injuries to her face, neck and chest.
He said: "It was just a freakish accident.
"We had been up at the pub where there was a big music session and at the end of the night I'd said to a few people to come on down for a beer.
"When we got to the garden there was a full-grown stag. There are deer fences all around and the only way for it to get out was through the gate where we were standing.
"It just panicked, there was no malice, and it caught the woman as it came through the gate.
"I didn't know who she was. She was in the group I was with and I'd only met her a few minutes earlier. She was on holiday in the area."
The Scottish Ambulance Service confirmed it had been called to an incident involving a deer.
Becky Pink, of the Royal Zoological Society of Scotland's Highland Wildlife Park, near Aviemore, said it was likely the animal had been startled.
She said: "It does sound like this stag had a bit of a fright and just went into a bit of a panic and wanted to get away."