Salmon catches in Ness system in Highlands rose in 2013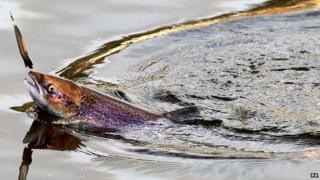 The number of salmon caught by rod and line in parts of the Highlands increased in 2013, according to new figures.
Ness District Salmon Fishery Board said 920 fish were caught compared to 847 in 2012.
The Ness system includes Loch Ness and the River Ness which, at six miles (9.6km) long, is one of Scotland's shortest salmon rivers.
The board said it had not expected a rise because of low water levels.
Ness fishery board said it was seeing the benefit of a conservation measure introduced in the late 1990s.
Earlier this week, Spey Fishery Board said that last year was one of the most challenging in recent times for anglers on some of Scotland's rivers.
Salmon catches on the Spey in 2013 numbered 5,780 against a 10-year average of 9,000 fish.
The board's director Roger Knight said low water levels as a result of long spells of dry weather in the summer was among the causes.
The River Spey is the seventh largest river in Britain.
Anglers are encouraged to release their catch. In 1997 only 4% of fish caught were released, while in 2013 that figure rose to 79%.