Stargazers oppose planned new homes for Culloden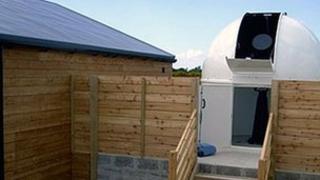 Highland Astronomical Society (HAS) has raised concerns about planned new housing for a site in Culloden.
The National Trust for Scotland already opposes the 16 homes because of fears it will lead to development surrounding Culloden Battlefield.
Stargazers at HAS worry light pollution will obscure views from their £75,000 observatory at the battlefield.
Developers Inverness Properties have approval from a government-appointed planning official for the housing.
HAS chairman Arthur Milnes said the observatory has good views of objects in deep space to the north west of the site.
He told BBC Radio Scotland that new housing would add to light pollution from Culloden and the rest of Inverness.
Last week, NTS said allowing development on farmland at Viewhill could set a precedent.
It said the battlefield of 1746 could become surrounded by properties in the same way as New York City's Central Park.
Highland councillors refused the developer planning permission.
But, following an appeal by Inverness Properties, a Scottish government-appointed reporter has granted permission with conditions.
The official decided that planning permission could be granted subject to an agreement being reached on a financial contribution from the developer towards affordable housing and footpaths.
A government spokesperson said: "Once this agreement has been reached, the reporter will issue his final decision on the appeal.
"The reporter has agreed with Historic Scotland that it is unlikely that the proposal would have any impact on the character and ambience of the battlefield."
Inverness Properties said it was delighted to be given approval.