New plan for unpopular Skye Bridge toll station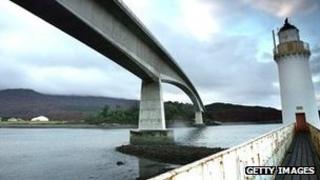 A building used for administrating an unpopular bridge toll could be converted into a community asset.
The toll station on the Skye Bridge was used for charging a fee from when the crossing was opened in 1995 until the toll was scrapped in 2004.
Within hours of the bridge opening, anti-toll protesters were arrested for failing to pay the £5 charge. About 130 people were later convicted in court.
It has now been proposed that the station become a bike hire shop.
Hamilton Park Trust, which owns the land at Plock of Kyle, and Kyle and Lochalsh Community Trust also plan to create new cycle paths.
The Big Lottery fund has offered funding to the project. Highland Council has been asked to contribute £50,000.