New effort to identify body found in sea off Skye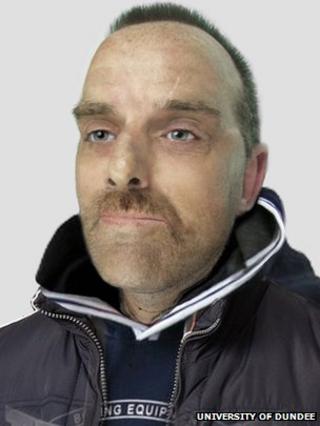 Experts in forensics and human anatomy have created a new artist's impression of a man whose body was found in the sea near Kyleakin on Skye last year.
The man's death is not being treated as suspicious. His body was found in the water at Kyleside on 9 September.
Dundee University's Centre for Anatomy and Human Identification created the impression of the man from information provided by Police Scotland.
The centre said the man was in his 40s to 60s, older than previously thought.
Experts in forensic and craniofacial anthropology and human anatomy advised the police on his age and helped to make the new artist's impression.
Police Scotland said the man was possibly spotted by a motorist at 06:45 on 8 September.
The man was walking along the verge of the Broadford to Kyleakin section of the A87. He was headed in the direction of the Skye Bridge, about half a mile away.
The body was recovered from the water at Kyleside at about 09:10 on 9 September.
Previous public appeals for help identifying the body led to 24 possible names, but police have ruled them all out from the inquiries.
The man was about 5'10" in height, of medium build, with short dark hair.
He was found wearing a blue Everlast hooded top and a blue body warmer.
He had dark coloured jeans with a Levi leather belt and was wearing a chrome Sekonda watch and a Help for Heroes wrist band.
The man was also wearing black Nike trainers and had a Reebok black and red backpack.
Police said his teeth were in poor condition. A number of the teeth on top and bottom jaws were broken or missing.
Officers also believe that he was left-handed and a smoker.