Events to explain A9 Perth to Inverness safety plans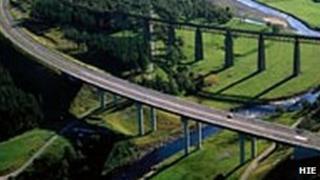 A series of public exhibitions are to be held to explain plans to improve safety on the A9.
The A9 Safety Group's events will be held in Inverness, Perth, Pitlochry and Aviemore.
Proposed improvements include seven average speed camera system zones, new safety barriers and better lighting on stretches of the road.
Campaign group A9 Average Speed Cameras Are Not the Answer and business organisations oppose the cameras plan.
Campaigners have said the system would further frustrate motorists and claim bad overtaking, not speeding, was the problem.
The Scottish Council for Development and Industry and the Federation of Small Businesses said the system would reinforce impressions that the road was slow and dangerous.
The government announced plans last year to install cameras as an interim safety measure until the road is upgraded to a dual carriageway by 2025.
'Complex isues'
Ministers had originally said they would be in place between Inverness and Dunblane by this summer but they will now not be operational until October.
A9 Safety Group chairman Stewart Leggett said: "The safety issues on the A9 are complex and a variety of solutions are being used to help cut the number of fatal and serious accidents. All of these concentrate on engineering, education and enforcement.
"We want to hear what people think about our proposals and have the opportunity to explain the thinking and evidence behind them."
The public exhibitions will be held at the Thistle Hotel in Inverness on 28 February, McDiarmid Park in Perth on 3 March, Pitlochry Festival Theatre on 4 March and Macdonald Highlands Hotel in Aviemore on 5 March.