Remote Kilchoan Ladies FC consider international tour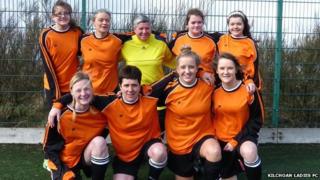 A women's football team in the most westerly village in the UK is considering an international tour so they can play more games.
Kilchoan Ladies FC was set up three years ago, but because of their location on the Ardnamurchan Peninsula in west Scotland, fixtures are limited.
They have been to the Isle of Coll for a game and played against Uist Ladies in Mallaig, 92km (57 miles) away.
The team is looking at the possibility of a UK or overseas tour.
Captain Kayleigh MacGillivray, a trainee PE teacher, said the team were making headway in arranging games with other sides in the UK.
She said: "Just now we have 10 players, but this increases when we get to the spring and summer holidays.
"The idea of a tour abroad is quite ambitious, but with more games in the UK, regular training and gaining links with other clubs, the sky's the limit."
Kilchoan is one of the remotest communities in Lochaber..