Edinburgh pub ginger jibe inspired US film-maker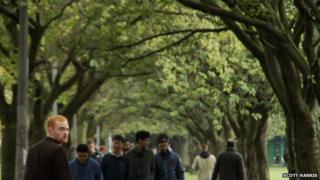 A new film, Being Ginger, has gone on general release. Its American film-maker says it was inspired by an unkind remark in a Scottish pub.
"Redheads don't date redheads," says Scott Harris firmly in Being Ginger.
He makes his comment while standing in the cold in a park in Edinburgh with a female friend, Lou.
They are trying to find women to interview on camera about whether they would consider a ginger-haired man for a boyfriend.
So if not redheads, what hue best complements red, asks Lou. "Blonde, brunette?" Scott tries to find the answer in his film.
The genesis for Being Ginger was an unflattering comment from a man in an Edinburgh pub.
American Scott was a student in Scotland when he was made acutely, and publicly aware, that his hair might be a problem for the opposite sex.
He was having a drink with a French friend when a stranger approached their table, pointed at Scott and said to her: "You aren't dating that ginger are you?"
The film-maker tells the BBC News Scotland website: "I had been living in Edinburgh for a little over a year, and I'd had a number of very weird experiences with strangers because of my hair.
"I thought they made funny stories but I didn't want to make a whole film about my hair.
"I was afraid that people would think I was just whining. Then it occurred to me that my whole adult life I've had female friends tell me that they had this 'friend' who just loved men with red hair.
"But it was always a 'friend' and they never introduced us."
In the film, a sequence of animation imagines this "friend" as an ethereal, fair-headed woman riding a winged, white horse.
Scott says: "I got to wondering if there were any women who actually had a thing for gingers."
To test his question, he went to the park with Lou with a plan to shoot a light-hearted, five minute film.
"But something unexpected happened and the story grew," says Scott.
"It went much deeper and became far more important than a silly film about my hair."
Most of Being Ginger was made in Edinburgh in Scotland, a country with a high proportion of redheads but also a tendency to mock them.
Scott says: "I talked to quite a few Scots women, although Edinburgh being Edinburgh there are a women from a number of countries."
He says people need to watch the film to find out if he ends up being lucky in love.
Being Ginger was premiered at last year's Irish Redheads Convention - in Ireland about 650,000 people have red hair - and Holland's Redhead Day Festival which Scott says was "incredible". The Netherland's event was attended by 5,000 revellers.
"I've also had six screenings in the US so far, and again the reaction has been universally positive," says Scott.
"At the end of the day, the film is much more about being different in general, whatever that difference might be, and how that can impact a person's self-esteem.
"And it's about the long-term scars that childhood bullying can have on someone when they grow up.
"But I never wanted to make a film that was too serious. I was afraid that if the film was just about bullying that no-one would want to watch it.
"Then I figured that wrapping a serious subject like that in a film with a strong sense of humour might have more of an impact. And based off the reactions I've seen so far I believe I was right."
Scott has already started making plans for a new film project.
It will be another personal documentary, this time focusing on the impact that watching far too many romantic comedies has had on his love life.
He says: "It's going to see me move to Paris in search of love, and its tentative title is An American Ginger In Paris."