Sutherland's Rosal clearances township 'to be protected'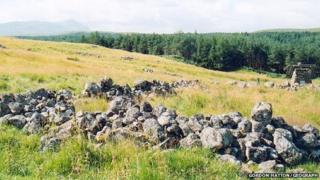 Land with strong associations to the Highland Clearances will continue to be managed by public body Forestry Commission Scotland (FCS).
FCS had sought to sell Rosal Forest in Strathnaver, Sutherland, after first offering it to the local community.
But in October, Environment Minister Paul Wheelhouse requested the land be withdrawn from sale because of the its historical significance.
A township at Rosal was cleared of its inhabitants in the 19th Century.
They were forced to leave to make way for large-scale sheep production.
Some land near Rosal will be sold off and some of the money raised invested in the creation of new woodland at Sibster in Caithness.
Funds will also go towards a starter-farm for new farmers at Achnamoine near Halkirk, also in Caithness.
Tim Cockerill, Forestry Commission Scotland's manager in the north Highlands, said: "We have fully consulted local groups again and have now taken positive action to ensure Rosal village is protected as part of Scotland's National Forest Estate.
"We are now exploring ways with the local community on how we can work closer together over the promotion and management of Rosal village in the future."