MSPs hear Inverness and Aberdeen control room concerns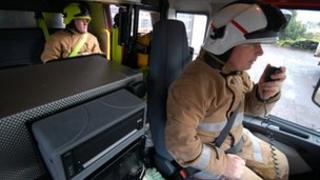 MSPs have heard concerns about moves to close emergency control rooms in Inverness and Aberdeen.
Campaigners Jody Curtis and Laura Ross told the petitions committee that shutting the centres would lead to the loss of local knowledge.
They said some local place names and accents could be a challenge for staff in other control rooms to understand.
In January, Scotland's police and fire boards approved plans to reduce the number of control rooms.
Ms Curtis, a former control room worker, is involved with a petition against the closures of police and fire centres in Aberdeen, and Ms Ross a petition opposing the shutting of a fire control room in Inverness.
They said the centres had a core of long-serving staff with local knowledge gained over years of service.
The campaigners also said communities should have been consulted on the closures.
Committee member and South Scotland SNP MSP, Chic Brodie, said concerns over the loss of local knowledge were "understandable, but do not stand up to scrutiny".
The justice committee, and a new sub-committee set up by its members, has already started looking into concerns about the reduction of control rooms.
The petitions committee agreed to seek clarification of what that investigation involved before deciding its next step.
'Phased consultation'
Under a plan put forward by Police Scotland's Chief Constable Sir Stephen House, five of the force's 11 sites will be retained.
Motherwell and Govan will form a West Area Control centre, with Bilston Glen near Edinburgh given responsibility for the East Command Area and Dundee the North Area Command.
Inverness will lose its police control room but will instead become the new hub for the command and control of major incidents and national events anywhere in the country, equipped with new communications systems.
A National Virtual Service Centre will be split between Govan, Motherwell and Bilston Glen.
But Dumfries will close in April 2014, Stirling in December 2014, Glenrothes in March 2015, Pitt Street in March 2015 and Aberdeen in December 2015.
Affected civilian staff will be offered redeployment, voluntary redundancy or early retirement, with a "phased consultation" with unions and staff to be carried out.
The Scottish Fire and Rescue Service's board has approved plans to reduce the number of control rooms, which handle emergency calls, from eight to three.
Those being lost are in Aberdeen, Inverness, Dumfries, Fife and Falkirk, while Johnstone in Renfrewshire, Edinburgh and Dundee will remain open.