Rumours RSPB accidentally killing birds 'outrageous'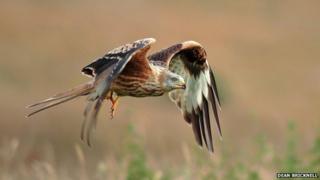 RSPB Scotland has said "outrageous rumours" have been spread accusing it of accidentally causing the deaths of 16 red kites and six buzzards.
The charity said the anonymously-made claims blamed it for killing the birds by leaving contaminated meat at its Tollie visitor centre in the Highlands.
Police said tests had shown 15 of the birds - 12 red kites and three buzzards - had eaten an illegal poison.
On Thursday, Police Scotland made a fresh appeal for help in its probe.
The dead birds have been found in Ross-shire since March.
RSPB Scotland volunteer Andrea Goddard said rumours the charity was responsible were "completely outrageous".
She said: "The poisoned birds were all found around Conon Bridge, some distance from Tollie.
"Most of the birds have been proven to have been illegally poisoned and we are awaiting confirmation that the others were likewise killed this way.
"These anonymous rumour-mongers seem to be attempting to muddy the waters and mislead the general public."
Mrs Goddard said that the regular feeding birds at the Tollie Red Kites viewing centre have all survived the "mass poisoning".