Rockall 'hermit' Nick Hancock battles with local birdlife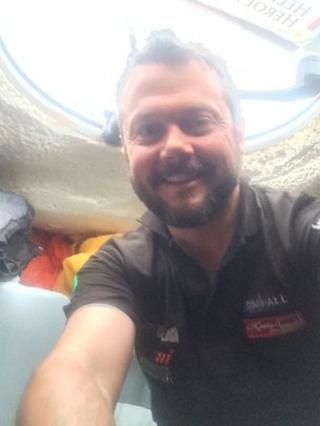 A Scots adventurer has been coming to terms with the birdlife on the remote Atlantic rock where he is attempting to live for 60 days.
Nick Hancock, from Ratho, near Edinburgh, landed on Rockall earlier this week.
In a Skype call update, Mr Hancock said he had been been dealing with bird poo and a gannet regurgitating on his RockPod living capsule.
The 70ft Rockall outcrop lies 260 miles (418km) west of the Western Isles.
The record for longest occupation was set in 1997 by three Greenpeace campaigners who lived there for 42 days.
Speaking on Saturday, Mr Hancock said: "I'm in good spirits and eating well, lots of water so that's fine.
"The forecast tomorrow looks better than today so I'm hoping that I'll get out and about and finish the wind turbine and get that charging my battery - that will be my main goal for tomorrow.
"Apart from that I got pooed on by a bird, which I'm taking as a good omen.
"And I also had another gannet regurgitate its food all over the pod deck today, so that was nice clearing that up, but part and parcel with living on an island with a load of birds I suppose."