Leonardo DiCaprio quoted Braveheart on Titanic set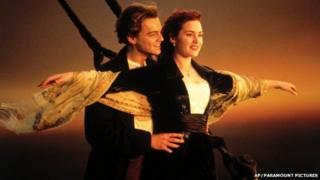 Actor Leonardo DiCaprio would stand at the railings on the Titanic film set and shout "freedom" in the style of Mel Gibson in his movie Braveheart.
The piece of trivia was picked up by a reviewer on film magazine Empire while watching the extras on a new DVD release of 1995's Braveheart.
Braveheart was Warner Bros' take on the history of 13-14th Century Scots warrior William Wallace.
The film's leading man, Gibson, was also in the director's chair.
The James Cameron-directed Titanic was released in cinemas two years after Braveheart. It also starred Kate Winslet.
Scenes for Braveheart were shot in parts of Glencoe.
The shout of "freedom" is among the film's most quoted lines.
Its use by DiCaprio is revealed in the extras, additional background material including interviews with the cast and crew, on the DVD.
Empire has mentioned the trivia in its latest newsletter.