Western Isles fuel probe ends locked-in contracts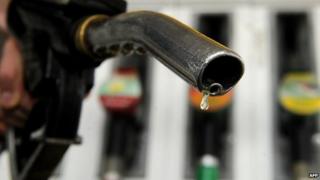 Filling stations in the Western Isles will no longer have to buy fuels exclusively from one company.
It follows an investigation by the Competition and Markets Authority into a possible infringement of competition law on the islands.
The regulator examined locked-in contracts between retailers and supplier Certas Energy.
The CMA said it hoped the end of such arrangements would encourage more competitive fuel prices on the isles.
Until now, filling stations bought fuels exclusively from Certas under five-year contracts.
Greater flexibility
Certas has now agreed to give competitors access to its terminals at Loch Carnan on South Uist and Stornoway on Lewis for five years.
The CMA said the move would bring an end to locked-in contracts, give retailers greater flexibility to choose whether or not they purchased fuels from Certas, and the terms of those arrangements.
Ann Pope, of the CMA, said: "We are extremely pleased to have secured these commitments from Certas, which offer a real opportunity for rival fuel distributors to enter the Western Isles market on a long-term basis.
"This should ultimately help make fuel prices more competitive and benefit people and businesses in the islands."
The investigation was started by the Office of Fair Trading and, following the closing down of that organisation, was continued by the CMA.