Rise in independent renewable energy schemes in Scotland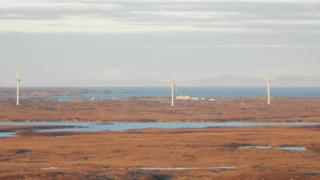 Independent renewable energy schemes in Scotland generated about £234m-worth of power last year, according to a new report.
The figure was up from 2012's £191m, SmartestEnergy has said in its Energy Entrepreneurs Report 2014.
Growth in project numbers in Scotland "significantly outstripped" growth in England and Wales, SmartestEnergy said.
Schemes that came on stream last year included the Western Isles' three-turbine Loch Carnan Wind Farm.
Scotland's biggest community-owned wind farm, the project is expected to generate £2m in revenue this year.
Profits will be reinvested in communities in South Uist, Benbecula and Eriskay.
According to the new report, more than £66m was invested in independent renewable electricity schemes - projects not operated by the six largest power companies - in Scotland in 2013.
Last year also saw more than 500 independent projects of over 50kW capacity operating across Scotland.
'Steep rises'
SmartestEnergy buys electricity from more than 100 projects in Scotland.
Iain Robertson, head of generation, said: "With over £1m a week being invested in these schemes, the independent sector is making an important contribution to the Scottish economy and providing valuable work for contractors and suppliers.
"The projects are also having a direct impact on the businesses, communities, landowners and developers behind them."
He added: "Faced with steep rises in energy bills and concerns over security of supply, investing in renewable energy projects is a highly cost-effective way to reduce costs and develop new income streams."
Built at a cost of £11.5m, Loch Carnan Wind Farm started generating electricity last year.
The farm is managed by community company Storas Uibhist which led the buyout of South Uist Estate in 2006.
Storas Uibhist said some of the £2m it has forecast will be generated would be used to improve drainage and flood prevention to safeguard machair habitat and protect people's homes.
The wind farm is expected to raise in excess of £20m for the community over the next two decades.
Storas Uibhist chief executive Huw Francis said: "This is the biggest community wind farm in Scotland with 6.9MW of capacity.
"But there has not been any real criticism of the turbines because people can see that the revenue they generate is staying in the community and helping us to maintain and enhance the environment of our islands."