New road movie scouting for locations on Skye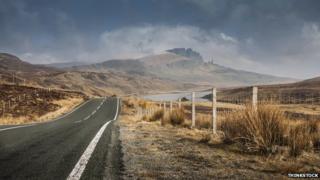 A new Scottish independent film has started scouting for locations in the west Highlands and on Skye.
The cast of Journey Bound includes former Doctor Who Sylvester McCoy, Still Game's Ford Kiernan and Clare Grogan, who starred in Gregory's Girl.
Frazer Hines, a former Doctor Who companion, will also appear and is an executive producer.
Director Ryan Hendrick has described the film, to be released in 2015 or early 2016, as a rom-com road movie.
The Bafta Scotland nominee said: "The absence of strong, quaint romantic comedies, particularly in Scotland, since the days of Bill Forsyth's Gregory's Girl and Local Hero has long been felt, and I am attempting to resolve this."
Hines added: "I'm so pleased to be part of Journey Bound as it takes me back to my childhood summer holidays spent touring Scotland with my parents, staying with my grandparents in Port Glasgow."
Bafta Award winners David Newman has also been cast along with Clare Sheppard, Natalie Clark and Caitlin Blackwood.
Pamela Barnes, another Bafta Award winner, is one of the film's producers.
The film follows city lawyer Neil and his trouble-hit attempt to salvage his relationship with neglected fiancée Karen.
To put things right he must travel to the north of Scotland to Cape Wrath where she has taken a job as an environmental researcher.