Man treated after gas incident at Brora distillery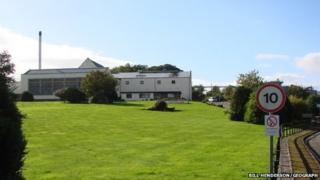 A distillery worker has been taken to hospital following a chemical incident at the Clynelish Distillery in Brora.
The alarm was raised at 18:45 on Tuesday after two substances were accidentally mixed together producing chlorine gas.
About 30 firefighters, some wearing specialist protective clothing, dealt with the incident.
The man who was exposed to the gas was taken to hospital in Inverness and was kept in overnight as a precaution.
The Scottish Fire and Rescue Service (SFRS) said the man was treated at Raigmore Hospital for breathing difficulties.
Fire crews from Golspie, Helmsdale, Invergordon and Inverness were sent to the scene.
Firefighters in gas tight suits and breathing apparatus, with technical support provided by the SFRS's National Hazmat Technical Support Team, isolated the tank involved.
The firefighters made the area safe before the arrival of a specialist clean-up company.
Fire crews then entered a portable decontamination unit as a precautionary measure. None of the firefighters was exposed to the gas.
Group manager John MacDonald said: "This was an incident with potentially serious outcomes, but due to the quick thinking of on-site staff at the distillery and the response from the emergency services, the incident was dealt with quickly and effectively.
"We are pleased that no one has been seriously injured and that we managed to help bring the incident to a successful conclusion."