Scotland the wave: Thurso to host UK surfing contest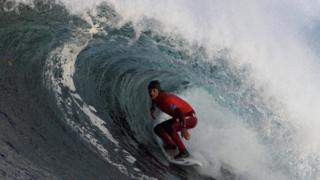 More than 100 surfers will compete at the UK Pro Surf Championships at Thurso later this year, it has been announced.
The event, from 30 October to 1 November, will feature professional and also junior competitors.
Highland Council and energy giant SSE are supporting the event. Thurso has previously hosted national and international surfing competitions
Organisers estimate more than 2,000 spectators will attend this year's event.
Thurso-based surfer Andy Bain said "This will also be a good opportunity for Scottish surfers at a competing level to enter the event, especially for the juniors who otherwise would have to travel to Cornwall to compete at such a level.
"I hope the event runs smoothly and is blessed with some quality conditions."