Campaign highlights littering in Skyfall film location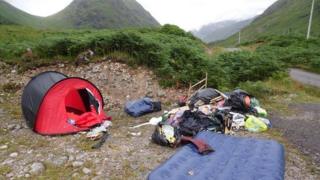 A campaign has been started in an effort to combat the dumping of rubbish in a spectacular Highland location, which used for a James Bond film.
A tent and inflatable mattress have been among items discarded in and around Glen Etive in Lochaber.
Local residents Phillipa and Mark Shone have been publishing images of the littering on Facebook page - Glen Etive - the Dirty Truth on Facebook.
Scenes for 2012's Bond film Skyfall were filmed in the glen.
Some of the scenes featured Daniel Craig as 007 and Dame Judi Dench as his boss, M.
The National Trust for Scotland, which owns land in northern Glen Etive, said illegal dumping was a concern.
A trust spokesman said: "This is undoubtedly an issue for us.
"Every year we remove hundreds of bags of rubbish.
"This work, while clearly vital, diverts staff from important conservation work in the area. It also leaves our charity with the costs for disposing of this rubbish."